 
Moteriški marškinėliai ilgomis rankovėmis "Slim" SUSIKURK PATS
Moteriški marškinėliai ilgomis rankovėmis.
Audinys su elastanu.
Pasipuošk marškinėlius su programėle "SUSIKURK PATS".
Pasirink patikusį paveikslėlį, užsirašyk savo užrašą ir mes pagaminsime.
Kaip tai padaryti - spauskite ČIA
Pavyzdys
Perspėjimas - ant juodo gaminio nesirinkite juodo paveikslėlio.
PASTABA: kadangi prekių likučiai sandėlyje kiekvieną dieną labai keičiasi, patariame prieš užsisakant susisiekti su mumis dėl spalvų, dydžių ir kiekių.
Užpildykite
Nepamirškite išsaugoti, kad galėtumėte prekę įdėti į krepšelį
Rekomenduojame prieš pasirenkant dydį, išsimatuoti savo nešiojamą rūbą.
Orientacinė dydžių lentelė.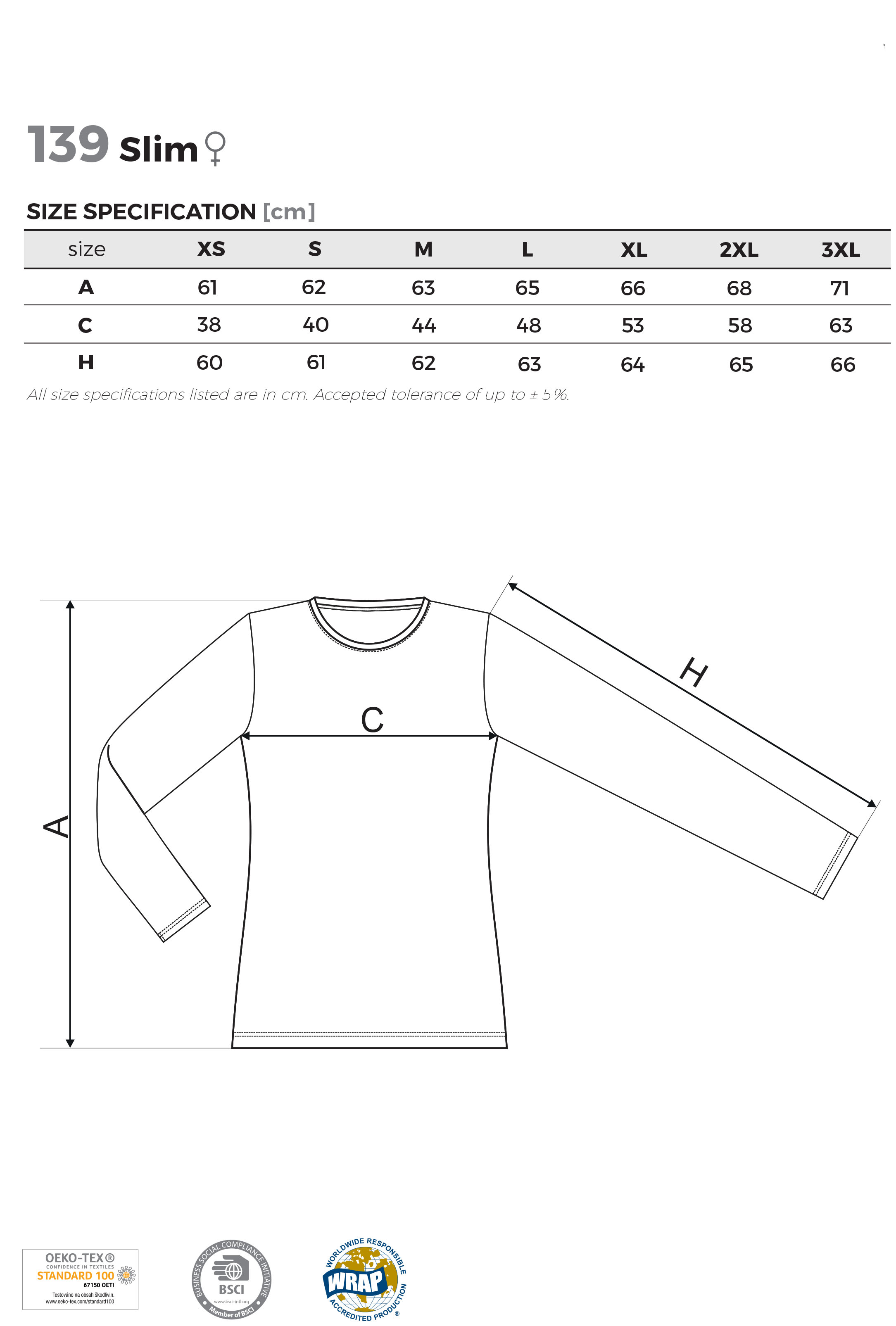 Sudėtis: Single Jersey, 95% medvilnė, 5% elastanas (dark gray melange 12 spalva - 85% medvilnė, 15% viskozė), 180 g/m2
Skalbti: 30 °C temperatūroje.
Dtg (direct to garment) spauda arba skaitmeninė spauda ant tekstilės - tai vienas moderniausių spaudos dėjimo ant tekstilės būdų.
Šis spaudos būdas yra ypatingas, nes vandens pagrindo dažų pagalba pasirinktas vaizdas/užrašas yra spausdinamas tiesiai ant tekstilės gaminio. Spauda įsigeria į audinį ir jį liečiant nesijaučia, kad uždėtas dizainas būtų pakeitęs tekstilės gaminio paviršių.
Informuojame, kad spalvų raiška spaudoje, gali skirtis nuo spalvų matomų kompiuterio ekrane dėl to, kad kompiuteryje esančios RGB spalvos (susideda iš raudonos, žalios ir mėlynos spalvos), o spaudoje CMYK (maišomos iš mėlynos, rožinės, geltonos ir juodos) maišo skirtingus panašių spalvų atspalvius, todėl spalvų atspalviai nuo to kaip vaizduojami ekrane ir spaudoje gali skirtis. Spausdinant tiesioginės spaudos būdu ant spalvotų gaminių, spausdinamo failo spalva gali truputi pakisti. Tai ypač būdinga raudonos spalvos tekstilei.
Informacija
Pristatymo terminas

Prekė išsiunčiama per 2 - 5 darbo dienas
Šiuo metu klientų atsiliepimų nėra.
10 kitos prekės toje pačioje kategorijoje:
Moteriški marškinėliai ilgomis rankovėmis "Slim" SUSIKURK PATS
Pakeisti spalvą ir dydį